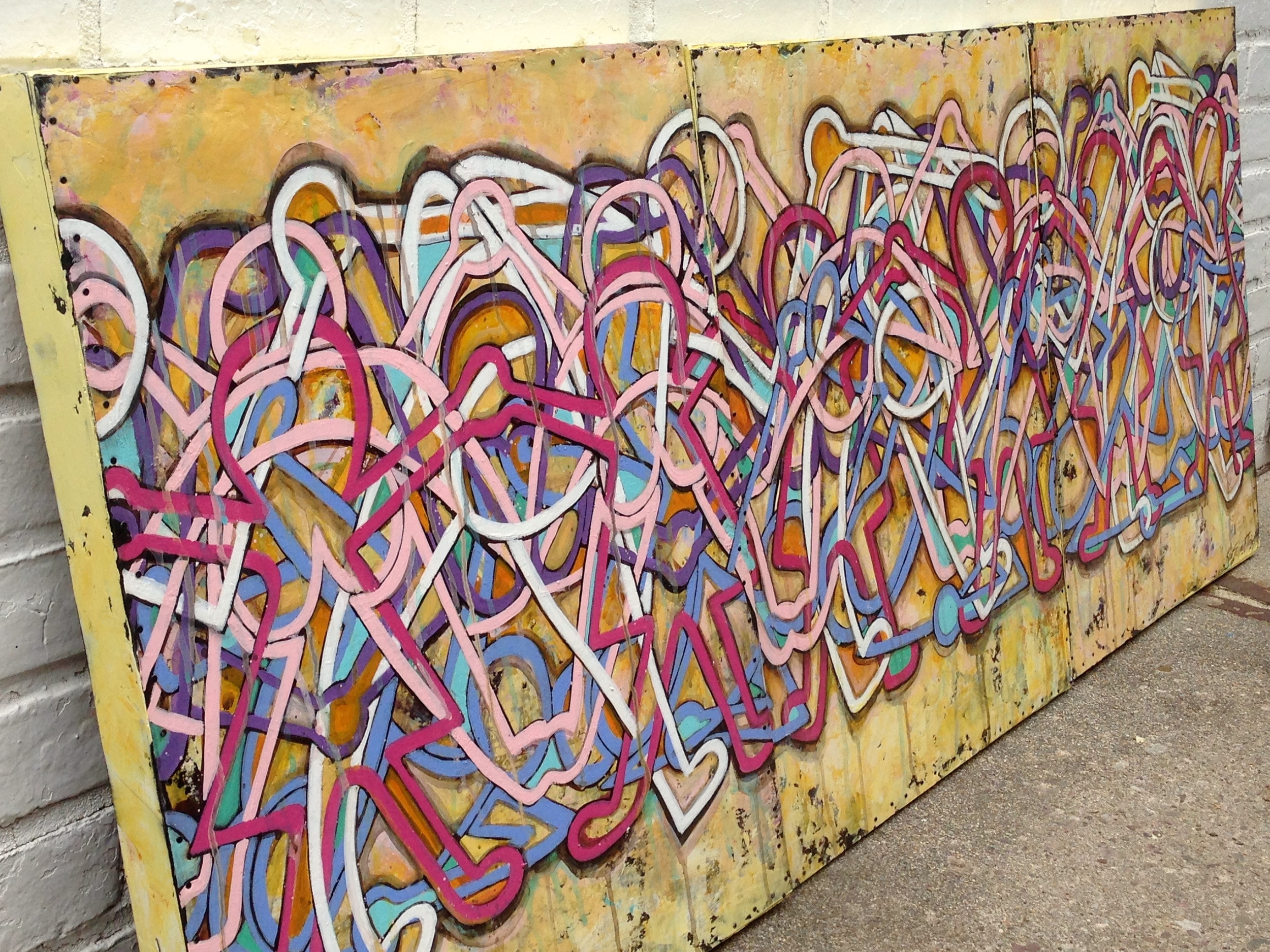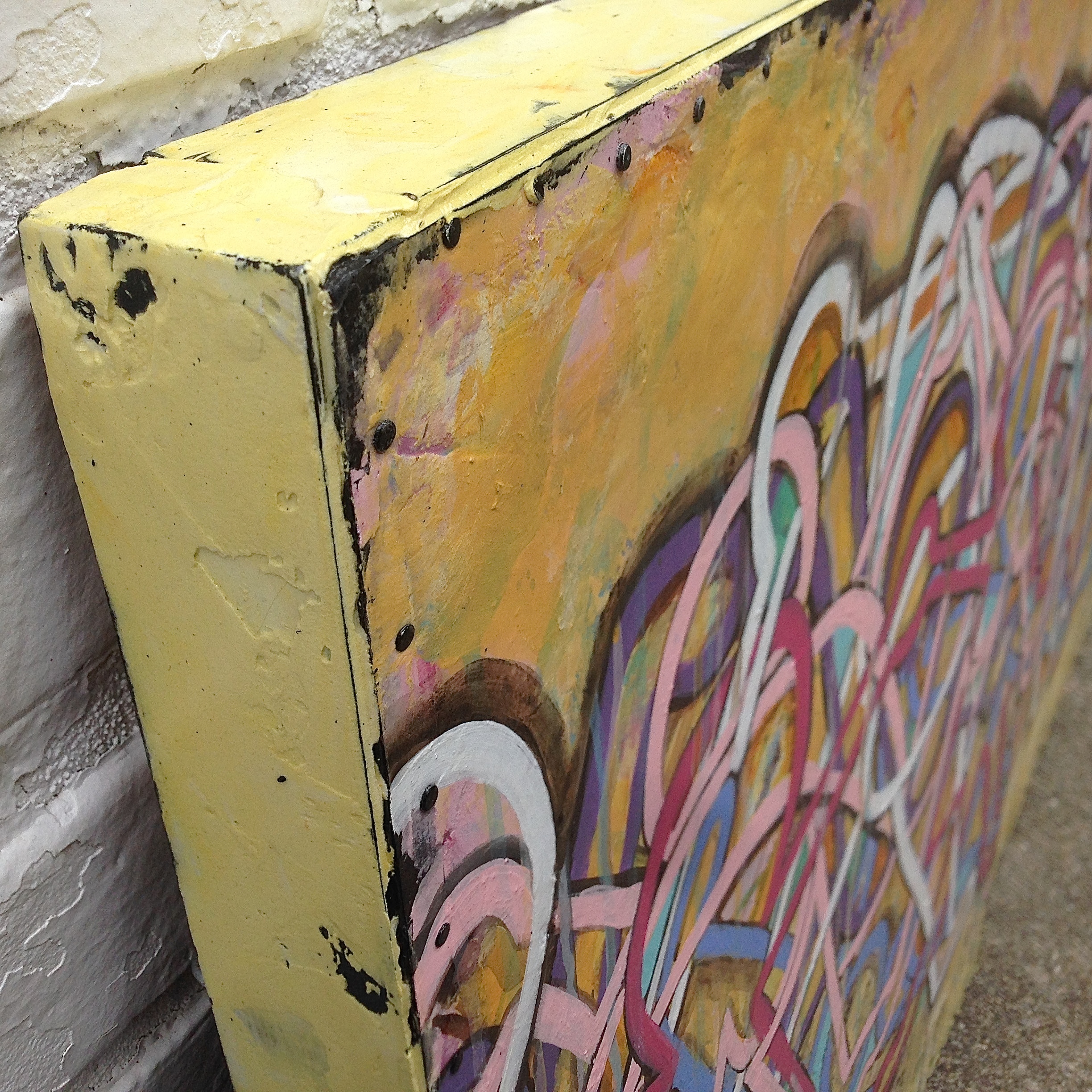 THE RACE (SOLD)
The Race, 48" x 72", mixed media on hardboard, 2016.
FIELD DAY
Field Day, 48" x 60", mixed media on hardboard, 2016. I did the sketches for this painting during the 2004 Presidential election, and revisited them during every major election after, but never had the motivation to tackle this piece. It wasn't until the 2016 election, Hillary Clinton vs Donald Trump, that I had the inspiration to finally create this painting. Reminding me of my elementary school days in the 70s, with the red team vs. the blue team, the players may have changed but the goal of the game remains the same, to beat your opponent...in this painting's case, literally.
BUT I LOVE YOU...
But I Love You…, 48" x 24", mixed media on hardboard, 2015, is about the true story of a friend, along with a few others, who witnessed a woman being beaten with the butt of an ax by her husband. When they tried to help the woman, she screamed for them to go away, that she loved her man, and that this was none of their business…so the onlookers did nothing to help. Their reasoning- this was between a man and his wife and no one should ever interfere with a marriage. The fact that she refused help, was taken without question. The mention that this was a criminal act and many abused people are afraid or unable to ask for help, was denied and dismissed. But I love you... was painted in happy, rich, romantic colors that intentionally mask the grotesque and disturbing subject matter, echoing the probable reality behind the events that happened that night.
ATTACK OF THE KILLER DAFFODILS (SOLD)
Attack of the Killer Daffodils, 48" x 32", mixed media on hardboard, 2016, is dedicated to my twin 4 yr old girls, Dylan and Layla, whose birth flower is the narcissus (aka the daffodil). My girls are witty, intelligent, independent, fearless and fierce little 4 1/2 year olds… and I hope to be just like them when I grow up.
Paper Dolls
Paper Dolls, 24" x 60" (triptych), mixed media on presentation board, 2014, is a triptych about the increasingly commonplace, overlooked, and even accepted sexualization of young girls in today's dominant culture, as well as the sexual objectification of women.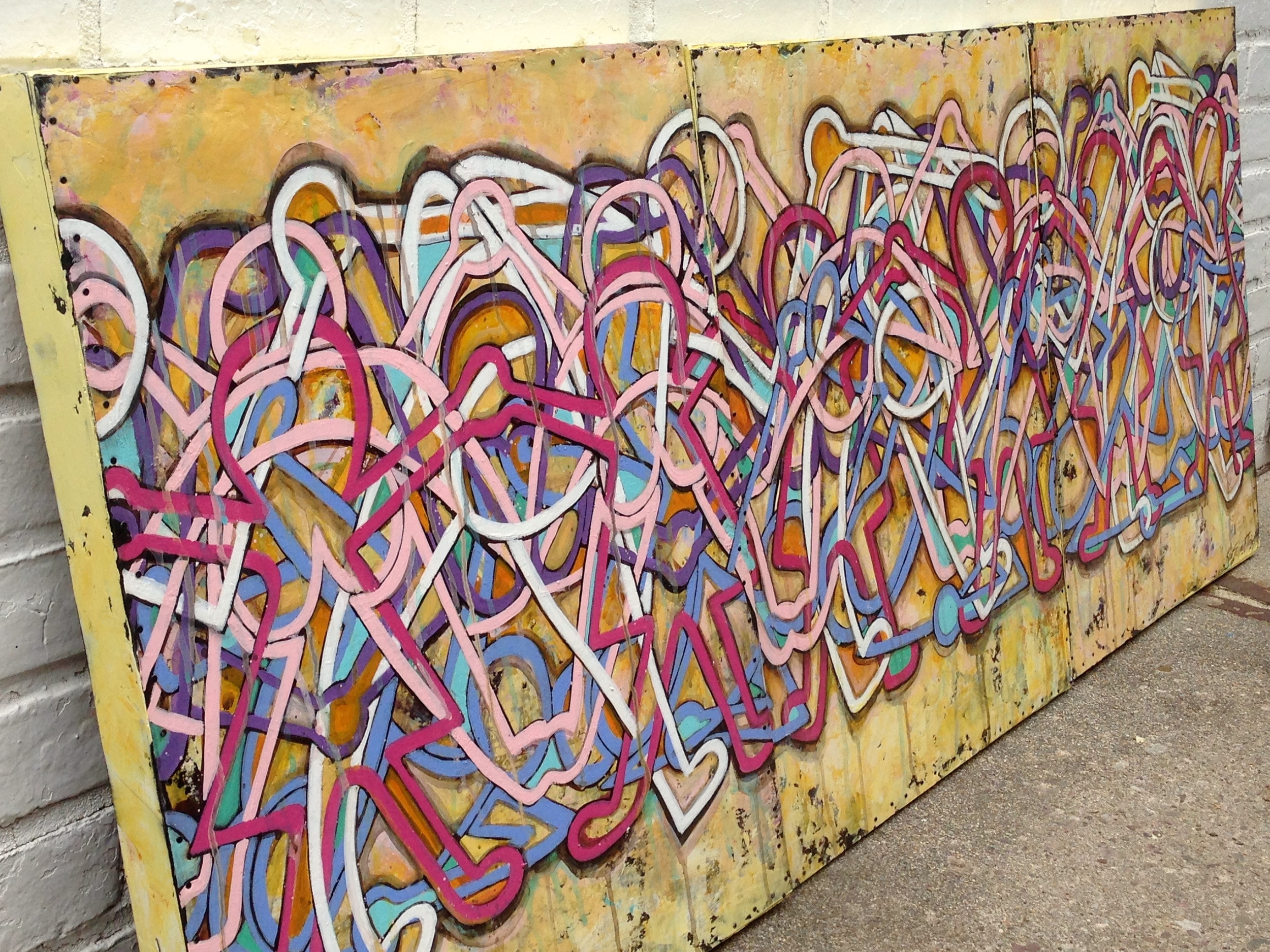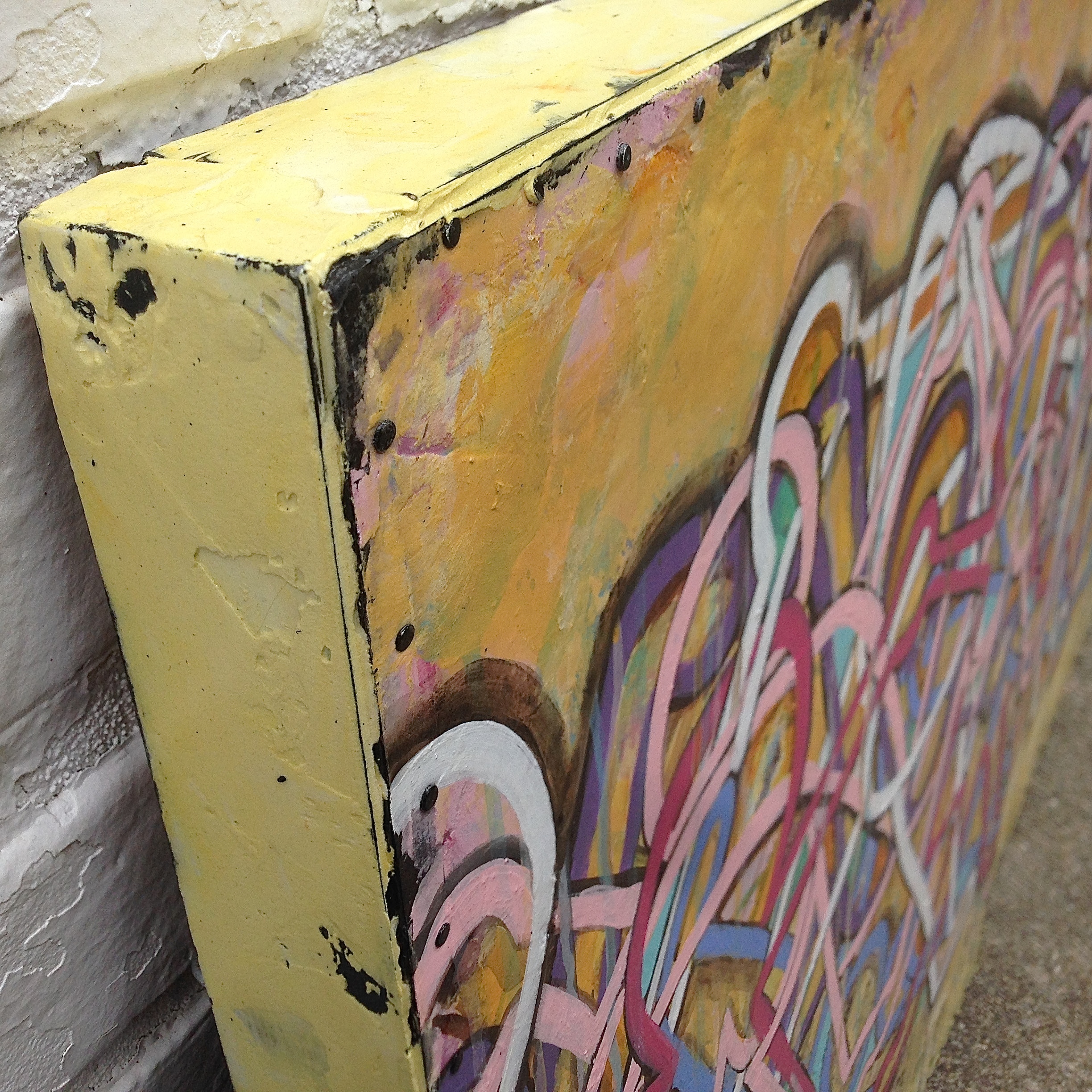 TWISTER ( SOLD)
Twister, 48"x48", mixed media on hardboard, 2011-2014, is a painting about the games some men and women play for attention and sex.
THE OFFICE PARTY
The Office Party, 48" x 36", mixed media on hardboard, 2016, is about betrayal, loss of trust, cheating, lying, affairs in the workplace, etc.
THE BODYSNATCHER (SOLD)
The Bodysnatcher, 48" x 36", mixed media on hardboard, 2016. I didn't do any sketches for this painting. I wanted the actual drawing to be very simple yet harsh, and the piece overall chaotic, raw, unedited and emotionally charged. It's meant to look like something a hateful student may have secretly scribbled on a classroom chalkboard about their supposed "best" friend. It's about betrayal and loss of trust.
GRIND
Grind, 48" x 32", mixed media on hardboard, 2011 was painted during a time in my life when I had a "day job". While I liked my work, the job had nothing to do with art and I feared I would never get back to my painting. I climbed a lot of stairs throughout the day (as depicted in the painting) always aware that they were taking me nowhere closer to my art. The definition of the word "grind" is "to reduce something to small particles or powder by crushing it". It pretty much summed up how I was feeling at the time.
THE BODY SHOP
The Body Shop, 40" x 32", acrylic on presentation board, 2014 was inspired by an advertisement in a local newspaper for an auto body shop that featured a photo of a sexy woman's horizontal body in lingerie with her head (i.e. face/identity) cropped out, symbolizing an object- a car. This sexist ad was posted on Facebook by an outraged friend, which promptly sparked a fascinating and passionate debate between the sexes. Immediately the idea for this painting, a larger decapitated woman being "worked on" by smaller male mechanics came to mind and the sketches began.
OH BABY!
Oh Baby!, 32" x 40", mixed media on presentation board, 2014, was born out of my own personal frustration with today's sexualization of young girls. While shopping online for cute animal Halloween costumes for my twin girls (22 months at the time), I noticed that the toddler "girl" costumes at the major stores were almost all skimpy and sexy, looking nothing like the animal (usually kittens) they were supposed to be portraying. This has always irritated me about women's costumes, but toddlers in sexy costumes I found disgusting. The next day, the idea for Oh Baby! was conceived.